Beautiful Ballerina
• All of your women bear resemblance to one woman, who is this woman who inspires you…I mean, don't they have the same visage?
Women have always been central subjects in my artistic research of ideal beauty. There are some recurring details because I think they are most representative of my inner truth (what I intimately believe in) about feminine beauty, regarding both inner values and exterior aesthetic parameters. Face features, postures, all the exterior characteristics are the media to transmit what I recognize as beauty and, as you noticed, in most of my paintings they are connected to a particular model I used in the first nineties, who I am still very fond of. Grace, tenderness, kindness, strength, the ability of waiting, the acceptance of life, the respect of natural life cycles, the care and knowledge of the body are the aspects I tried to convey. The eyes and the glance of my models are the parts witch I feel like most important: they are usually brilliant, vivid, penetrating, full of life and self-confidence, either when they are in a pensive mood, they never seem lost, they always reflect 'presence in time'. I realize the importance I give to the eyes even in everyday life: I always make up my eyes and often that is the only make up I have!
 What is the theme of this new exhibition of yours?   How is it different from the others?
The general theme of my latest exhibition is "romantic realism" which I think is the leading and general theme of all my paintings but in my latest works there's something new. The subject choices are moving a little from my usual carnet of women and flowers. The aim of my artistic research is now to find a different way of representing the human figure by means of different representative contexts. My first attempt is to make my subjects more contemporary and to clean them up from the nostalgia of memories. I want to open my horizons up without betraying my personality and my personal aspirations. I made only few steps towards this new direction and , as a matter of fact, just few paintings are actually different from the others, such as the "fighters" which is an experiment of a totally different new expressive context. I have always chosen my subjects following my heart, so even the football match represents one of my never-fulfilled-wishes. It gave me the opportunity to analyze a human characteristic I've never dealt with before: a male context where strength and competition are melted together with friendship, respect and team spirit. However this is only the beginning of a new artistic path, I hope, so we shall wait and see where it leads!
Have you changed your colour schemes in the new works?
Of course! Changing the usual context of my paintings and the process of artistic research itself implied a change in my usual colour schemes. As a matter of fact the colour contrasts are more vivid and I'm experiencing some new colour playing but, on the whole, I am still faithful to myself.
How do you represent life as an artist…in an optimistic or pessimistic way?
I always have a positive attitude towards life. The subjects of my paintings are related to memories but it doesn't imply that I avoid the present. On the contrary! I choose them following my heart, I am satisfied of my life and I am trustful for the future, so I allow myself to look at my past memories and consider them as a treasure I want to share with others.
What are the important values for you as you grow older and become more experienced?
My scale of values haven't changed much during my life and now it is more or less the same. At the first place there is love, particularly the love for the people who surround me everyday, who are the most important part of my everyday life. Immediately after, at the second place I'd put ideals, which means that I give maximum importance to what inspires right actions and guides you in life. At the third place I'd put the personal research of a way in life to achieve the essence of spirituality. Fourthly I'd put the research of "man" that's to say every attribute and feature that makes a human being the highest expression of itself.
Therefore there is a difference between my youth and now. When I was young I had to fight to find my own way in life. My parents initially decided a different course of study for me and my brother. As a matter of fact they addressed us towards scientific subjects, but despite my good school performances and my parents strong opposition, I decided to follow my brother's footsteps: I left both school and my parents' house and I moved to Venice to fulfil my artistic aspirations. It was a very difficult step to take, also because my father had a different attitude towards my brother and me, and I think this is because I am a woman.
After this initial breakdown with my father's decisions concerning my future, I have been completely free to decide my own path in life and the choices I made since then have always been a mixture of heart and rationality.
Meena Narayan
from Gulf Connoisseur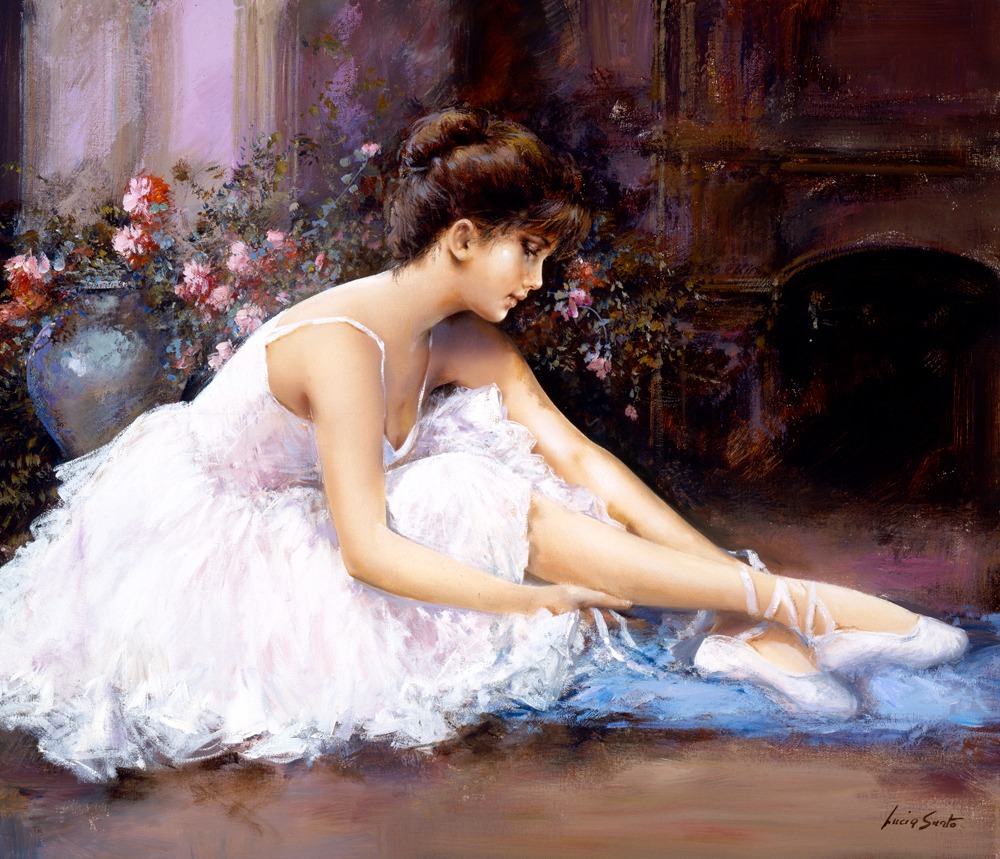 Color, trasparencies and poetry
"God made man in his image and likeness, Art is the closest resemblance between man and God"
From a careful and meditated reading of her most refined works, you may feel an ethereal romanticism jealously guarded within the heart and subsequently sublimated into some transparent colourings – just whispered – whereas the great sensibility of the Artist exorcizes the miracle, always new, of nature and life, within the slow unwinding of time.
Endowed with a cultural education of great depth, Lucia Sarto "tells" landscape and figures by means of a persuasive spiritual appeal that allows a closed dialogue with herself and with the infinite, in an heap of silent emotions which are completely shareable due to proved elective affinities with the wonderful impressionistic values of creation.
Then the wide and sunny views kissed by the quivering light, carefully selected from life, state exclusive horizon lines that turn into poetic ovations: a phantasmagorical universe swarming with tones that from sheer impressions become well established expressions in a boundless path with the existential sovereign of gestural thought.
Let's hint at a pictorical line of greatness, pursued and undertaken as a vocational mission, as a new palingenesis to which we can refer to identify the supreme ideals of beauty and universal love.
Far beyond the many representative adventures of each canvas, you can feel a discreet salvific energy, where distant mnemonic assonances and the premonitions about future destinies of the new millennium, does coexist in a pure state and in every addendum of the dictation, expressing concretely a mediterranean painting, placed at the metaphysical limit of imagination, enabling ourselves to recognize the very meaning of life.
And, towards such direction, Lucia Sarto's work converts every image into symphony.
Aldo Albani  
Grugliasco, May 2008
Soul's gardens
Lucia Sarto features reality and nature in such a delicate and subtle way that tastes and smells as the most vivid of memories.
With every single brushstroke she composes pictures of landscapes, balconies and sea views that touch us only with the sweetest and most vital part of them which goes beyond the physical limits and pervades everything.
According to the impressionism dictates, she melts the borders of the shape and sets a totality that hangs in the gentle light of life, with the tones of the March sunlight, outlining clouds-like flower compositions which wrap the audience in an unreal atmosphere, as warm and comfortable as the May springtime breeze is.
Therefore the painting choices of the artist represent the way she faces life itself and her soul: she lives the constant renewal of an endless springtime and moves through events as peaceful and calm as the smooth waters of a river does, the same river that belongs to her most loving childhood memories.
Her works are also an invitation to experience the painting suggestions and to make them a personal treasure: let yourselves be enraptured by such an hanging-in-time beauty of a moment and fix it in your memory and make it a new way to face life.
Let's try and enter one of her paintings.
Let's imagine ourselves seated on a balcony full of flowers in the sunlight and springtime breeze, let's enjoy the peace and tranquillity where thoughts became lighter.
That's it : the very moment we loose ourselves in a sigh of relief, we find the passageway to that place within ourselves, doesn't matter where we actually are, which is our true home, that undefined place where body, mind and soul merge together with the world and nourishing each other prepare ourselves to brave life.
Eleonora Borghese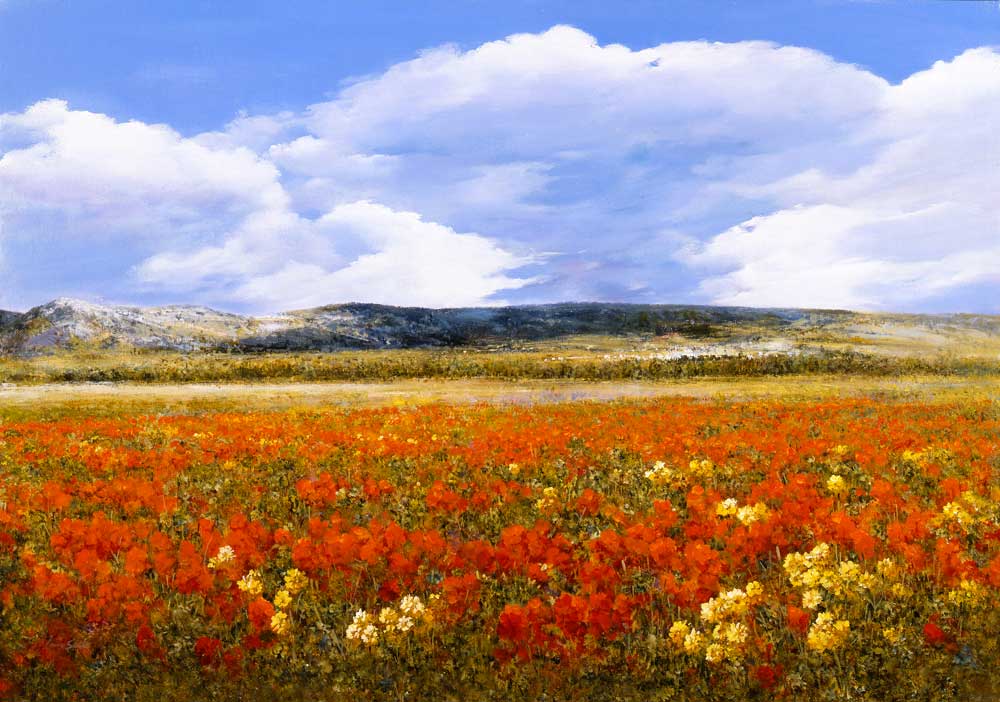 An enchanted traveller.
By Veronica Balutto
I discovered Lucia's works by chance, and it was one of those events that drive you to feel new emotions, that give you something and leave you with something you'll bring along …
Did it ever happen to you, to meet someone you feel like you have been knowing each other from time immemorial, while walking down a street ? That's what happened to me, as this artist touched something I had inside that now I want to tell you …
… The romantic painter of the moment, the aesthete of an almost familiar dimension: this is what, in few strokes, Lucia Sarto is for me.
Beyond the indubitable high quality of her art from both a technical and a figurative point of view, Lucia's art is true, genuine and it mirrors her soul and her mind.
A world made of lights, reflexes and colours: with her deep sensibility Lucia succeeds in involving the audience in her romantic dimension, by repurposing, on canvas, signs and evidences of a real life or a kind of life that Lucia herself wants to live, a different life that she often allows ourselves to dream about, even just for a moment.
Lucia describes an almost enchanted world where an instant has got the definite value of catching the harmonious whole and the scent of bright seasons, catching thoughts, reflections and feelings. Everything which lies on the bottom of the observer's soul.
Trough architectonical foreshortenings and careful portraits of the characters, the detail in Lucia's works is always interesting: a particular view, a less frequented corner … everything is impressed with innocent beauty and high vitality, all unmistakable artist's marks.
Each canvas is a non-stop discovery: lights and shadows alternate so that every canvas is a journey within imaginary worlds made of reflections and colours, made to dream but also to reflect about the moment, the very moment that the artist decided to represent with profound mastery.
The work of art is a continuous discovery, it's unpredictable, and it comes from nothing everyday: it's Lucia's sweetness' and tenderness' duty, as an enchanted traveller, not to stop making us dream.
Thank you, everyone!
Veronica Balutto
Lignano, June 2008
The Poetics of the moment.
The poetics of painting – those of Lucia Sarto. Poetics that are expressed through light and subtle brushstrokes, which capture us and push us exactly towards that "beyond" from which they come. Admiring one of her works transports us to undertake an imaginative journey within the image, in a world of light, reflections and colors in which the artist permits us, and if it is only for a moment, to dream and travel to the places that she has chosen carefully.
This exhibition presents the latest works of the painter from Friuli, not only the ones that are dedicated to the landscape of the Veneto and of her beloved Venice, the city in which she spent important years of her formation, but also canvases featuring images of Israel, including Jerusalem and Golan.
In the Campo del Ghetto she inserts barely sketched figures into the architectural surroundings; figures that are in movement and without any kind of elaboration of lines; figures that apparently are not interested in the beholder, who perceives them in a passing moment; and figures who go about their own path and life. This may be a way to "contemporize" the secular architecture through the insertion of an ulterior temporal element beyond the flowers. Or it may be only a way to capture, without excess but silently, the poetics that every moment of our life is capable of conveying.
Petra Schaefer Andreoli
Venice, September 2005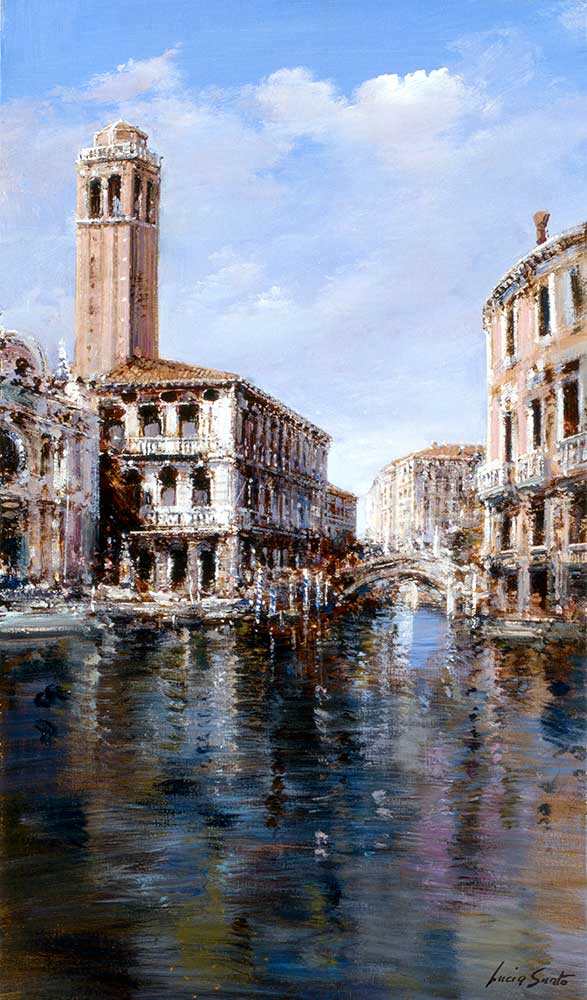 Lucia Sarto is born in Udine area and her cultural/artistic formation takes place between Accademia Belle Arti in Venice and Tourin. Today lives and creates in her "Artistic soul workshop" in Lignano Sabbiadoro, in her Atelier/Gallery, where private, art dealers, and other estimatiors of Lucia Sarto from world wide convene. The Friuli Artist is well loved from her vast public which have the opportunity to know and follow her by means of hestegions galleries and museums where she achierd press and critic awards, although her discreet temperament, her expressive talent technics, make her unique.
From Vienna to Los Angeles, from Paris to Frankfurt, New York, Aquisgrana, Nagoya, Portofino, Monaco, Tokyo, Monreal, Firenze, Cefalù, Caccamo, London, Venezia to Sabaudia, Rome, these are only a few of the events of Lucia Sarto career, her activity in these long years have not stopped on the visibility of the web for today art remains trapped or deluded, but in the tangible finding concrete success seen live.
Only admiring her pictorial cycles we can understand the complesity of her work incased in the secret of her results, from her floreal, marine and fields, drenched with poetic sensorial emotions in a hyperrealistic like "La turista", "L'appuntamento", "Ponte Vecchio a Firenze " and "Caffè Florian" mortilized like a photo shoot by Cartier Bresson "Now here"!
This is how Lucia Sarto palette creates lyricism and empathy with the spectator, where in eachpainting captures something of universal sentiments in each one of us rivisiting a dream a memory a desire like a "lived" that "moment" in a intimate way. So observing one of her operas you know it belongs in a way like a snapshot a known vision of the opera which belongs to you.
In the opera "L'appuntamento" the subjects for example are not visible in the face, the invisibility is what must be highlighted, the meaning of an emotion, that in a very short space of only joy, condensing a previous space a long wait of an hour, a day, or much more… it is always infinite. The couple meet dressed with a lighly vintage clothes, where the stroke of the paint brush and the warm colours of brown, contrast blured shades of a winter day, recognizable in the distance from a out of focus image.(No need to show with the eyes what the heart can see) her foot lifted like it was in a moment of a kiss, we sense, but not seeindicating a body language that has a  sense of vertigo the rise nearly as a flight (all in inten but not visible).
The two subjects move away to the left almost to retreat intimately on one side of the picture, focusing only on the essential. In the variegate repertoire charateristic and it's represented in the landscape by Lucia Sarto caught in her countless trips the peculiar shot of decorative floral essences, one poins indefinitely in her plans of succession of liricol phrases of her "journey carnet"
for which reaches the apotheosis of "Isole Eolie". A cromatic blaze of wisteria on violets that intwine between the rocks to the sea, in an unspeakable vibrant sensation, that infolds in an inchanted atmosphere, where only field flowers divide us from yhe impossible, although existing she shows the louminous of colours that celebrate and invite to the joy of living of the elected sensibility.
Moments of the first rays of sunshine stolen from the bathers in serenity of the beach between games of the waves that come to shore, the same of a young mother strolling with her children on the shore, elegantly in all her sweetnes carries her shade like the bathers of the Belle Epoque and in her I read the auto biography of the artist.
From fields of sunflowers and poppies to the single bunches of freshty picked violets still smelling of the morning dew, the themes of poppies and arum lilies that often are stamped on her dresses, leather accessories, fine silks, leather stamped with and unpublished technical method, are appreciated in stores world wide. In the intensity of the dream atmosphere, in a landscape in the south, like "Veduta d'Amalfi" we recognize the ethereal blue hues light of the north, typical of the venet artist of 700 like Canaletto, but the interpretative key is utterly personal, instant fotograms of an interior landscape is unique to Lucia Sarto which she clonates with grace and high technical expertise.
Dott.ssa Francesca Mezzatesta storico e critico d'Arte